Страница 12 из 12 •

1, 2, 3 ... 10, 11, 12

irozavr пишет:Ого....Это что случилось?Ураган?
Это дождик был

, тропический. Минут 10, но по дорогам прям волны катились. А сегодня даже луж нет.

NatalieQB





NatalieQB пишет:

irozavr пишет:Ого....Это что случилось?Ураган?

Это дождик был

, тропический. Минут 10, но по дорогам прям волны катились. А сегодня даже луж нет.
Ааааа....А я думала,что Господь решил в Монреале устроить эксклюзивный потоп.Ничего себе так дождичек.....Надеюсь,Брюно под него не попал.

irozavr





Ух ты, какой потоп!

У нас тоже так бывало.

Nonni




Возраст

: 52



Уважаемые монреальцы! Расскажите, пожалуйста, что это за марафон у вас будет на следующей неделе
Le marathon R&R de Montreal !
Сама спросила, сама ответила

Вот такой вот марафон
Run Rock 'n' Roll Marathon Series
http://ca.competitor.com/montreal - это сайт марафона. Будет проходить 23.09.12
Люс -бегунья, наверное тоже будет участвовать

Svetlana




Возраст

: 47



Montreal mayor's arrest prompts province to call for resignation
Quebec anti-corruption unit UPAC arrested Michael Applebaum, 2 others this morning 
(Мэр Монреаля арестован, ему предьявлено 14 обвинений. Мошенничество, коррупция... Поражает обилие комментов под статьей, видно, давно назревало.)
The provincial minister responsible for Montreal, Jean-François Lisée, says Montreal Mayor Michael Applebaum should step down following his arrest this morning.
Applebaum faces 14 criminal charges, including fraud against the government, breach of trust, conspiracy and municipal corruption, the provincial anti-corruption unit UPAC said.
Lisée says city council should select an interim mayor to serve until the next municipal election, in November.
The list of charges against Applebaum was made public at a news conference Monday morning, several hours after Applebaum and two other people were arrested.
UPAC says the charges relate to obtaining permission and political support for two real estate projects in Montreal's Côte-des-Neiges-Notre-Dame-de-Grâce borough between 2006 and 2011.
"No one is above the law and you can't hide from the law." says Robert Lafrenière, head of UPAC.
Lafrenière said he wouldn't provide additional information about the real estate transactions because it could jeopardize ongoing investigations.
Radio-Canada investigative reporter Alain Gravel says the mayor was taken from his home at 6 a.m. ET.
Images aired on the station show the mayor being taken to provincial police headquarters on Parthenais street early this morning in an unmarked white car.
In November, Applebaum was sworn in as Montreal's 42nd mayor, vowing to combat corruption at City Hall, replacing Gérald Tremblay, who resigned amid allegations of corruption.
In May, UPAC conducted a series of raids, including one at the Côte-des-Neiges-Notre-Dame-de-Grâce borough offices where Applebaum previously sat as borough mayor.
At the time, officials said the unit did not contact Applebaum as a part of the investigation.
Two others with previous ties to the borough of Côte-des-Neiges-Notre-Dame-de-Grâce were also arrested Monday morning. They are:


Jean-Yves Bisson, former borough manager. He faces four charges, including breach of trust, fraud against the government and receiving illegal commissions.

Saulie Zajdel, former city councillor and former Conservative candidate in the last federal election in the Montreal riding of Mount Royal. He faces five charges, including breach of trust, fraud against the government, municipal corruption and receiving illegal commissions.

Zajdel was hired by the Conservative government as an adviser to Heritage Minister James Moore following his defeat in the 2011 election, but left the job with little explanation in the spring of 2012.
'No one is above the law,'—Robert Lafrenière, head of UPAC
The Liberals complained Zajdel was working as a "shadow MP" and meeting with elected officials to discuss federal services and grants, but Moore said Zajdel was working in his Montreal office as a non-partisan liaison with the city's ethnic communities. Zajdel was part of the prime minister's entourage when Stephen Harper visited Montreal in March, 2012.
The Canadian Press reported at the time of his departure that Zajdel had a permit to sell real estate and was listed as a "real estate broker" on an Montreal agency website.
Who is Michael Applebaum?


Former real estate agent.

First elected councillor in 1994.

Mayor of Côte-des-Neiges-Notre-Dame-de-Grâce borough, January 2002 to November 2012.

Named president of Montreal's executive committee in April 2011 by former mayor Gérald Tremblay.

Resigned from Union Montreal party following Tremblay's resignation.

Chosen as replacement mayor of Montreal in November 2012, and sworn in.

Several municipal politicians are calling for Applebaum to step down as well.
Westmount Mayor Peter Trent says he had hoped Applebaum would be a good replacement mayor, and news of his arrest came as a shock.
"Once again it means there's a huge amount of work to be done to rebuild not just the city of Montreal, but the whole area of Montreal. The whole municipal field is really in turmoil," says Trent.
They include Saint-Laurent borough Mayor Alan DeSousa, who spoke to CBC Montreal's morning radio show,
Daybreak
.
"I don't think the City of Montreal can absorb the body blow of having a mayor who's been arrested and having that person continue," he says.
DeSousa emphasized "there is a presumption of innocence," but went on to say the City of Montreal is governed by "confidence of the Quebec government, the confidence of Montrealers, the confidence of the bond-rating agencies and the business community."
Ahuntsic-Cartierville city Coun. Jocelyn Ann Campbell and Vision Montreal leader Louise Harel also called for Applebaum's resignation.
Harel held a press conference at Montreal's city hall following the arrests to say she does not want the city to be placed under provincial trusteeship. She says an interim mayor should be chosen by city council.
http://www.cbc.ca/news/canada/montreal/story/2013/06/17/montreal-michael-applebaum-taken-into-custody.html

_________________
Тут мне скандалисты не нужны. Тут скандалю я одна.  (Ф.Раневская "Сегодня - новый аттракцион")
Спасибо за новости...печально(
There has been some ugly weather in Southern Quebec as of late and on Sunday it resulted in some very significant accidents on the roads. There were at least 2 major pile ups near the city of Montreal, Quebec and although that is obviously terrible for everyone who was involved in the accidents, there was also a rather heartwarming moment of pure Canadia that emerged from those unfortunate incidents as well.


First to paint a picture of how serious things were on the roads today, here's a description from the CBC's Steve Rukavina:


A pileup on westbound Highway 40 in Saint-Sulpice, about 20 kilometres east of Montreal, is causing severe congestion for several kilometres. Provincial police say more than 75 vehicles are involved, but only minor injuries have been reported.


By about 11:30 a.m., the highway was closed at the 118 kilometre mark not far from exit 122 where westbound drivers were being detoured. More than a dozen ambulances and a dozen tow trucks were called to the scene.


Obviously as you can imagine anyone trapped in a situation like this would be extremely frustrated, and it was not even just the people who were actually involved in the pile ups who had to suffer as a result of the accidents. Several stretches of road where completely shut down as a result of the pile ups and that left hundreds of people trapped on closed roads as emergency services rush to help those in need. It was those trapped motorists who provided one of the coolest responses I've ever seen to such an unfortunate circumstance.


In one of the most Canadian moments I have ever seen several people got out of their cars and grabbed their hockey sticks in sub freezing temperatures and began to work on their passing skills. In the video below you can see the people gathered outside their cars passing the puck around on the frozen road, and as the video pans around you can see that even more people are getting out of their cars and grabbing their hockey sticks to join the group that has already started playing.

https://twitter.com/i/status/1089582689835982849

https://www.hockeyfeed.com/nhl-news/75-car-pile-up-near-montreal-leads-to-the-most-canadian-moment-ever?fbclid=IwAR2bOZtn-BKuSMxskzVQCA-04_Ms69H329CLUihO6bWW5VQQOIUankJAArk

_________________
Тут мне скандалисты не нужны. Тут скандалю я одна.  (Ф.Раневская "Сегодня - новый аттракцион")
Монреаль вчера. Фото с мордокниги https://www.facebook.com/photo.php?fbid=2157848354308189&set=a.335456846547358&type=3&theater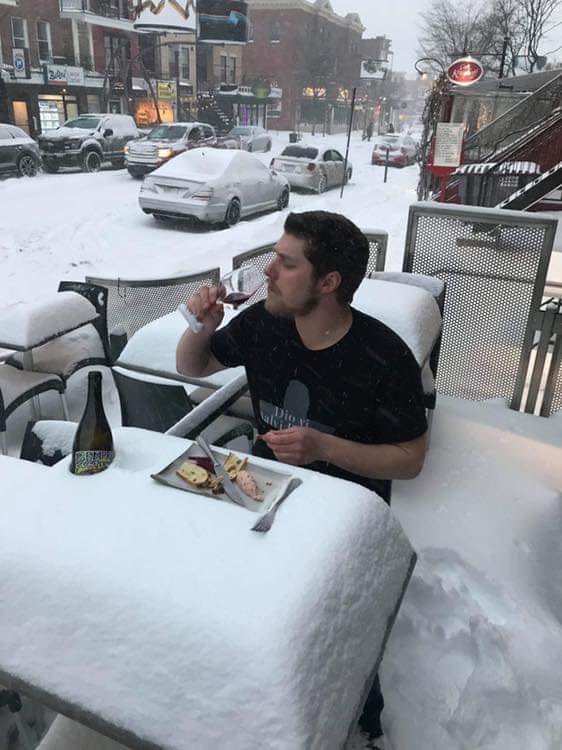 _________________
Тут мне скандалисты не нужны. Тут скандалю я одна.  (Ф.Раневская "Сегодня - новый аттракцион")
ахаха, класс
Страница 12 из 12 •

1, 2, 3 ... 10, 11, 12

---
Права доступа к этому форуму:
Вы
не можете
отвечать на сообщения